On October 16th, I will be joined by several other parents and friends of those affected by Propionic Acidemia in Columbus, OH. We will be running in the Columbus Nationwide Half Marathon. Our goal is to raise $13,100 for the Propionic Acidemia (PA) Foundation, that is $1,000 for each mile of the race. My personal goal is to raise $4,000. I will donate $1 to the PA Foundation for each mile I run in training and in events. I will also be running in the Hot Chocolate 15K with my husband, Rawlo, on November 5th in Chicago.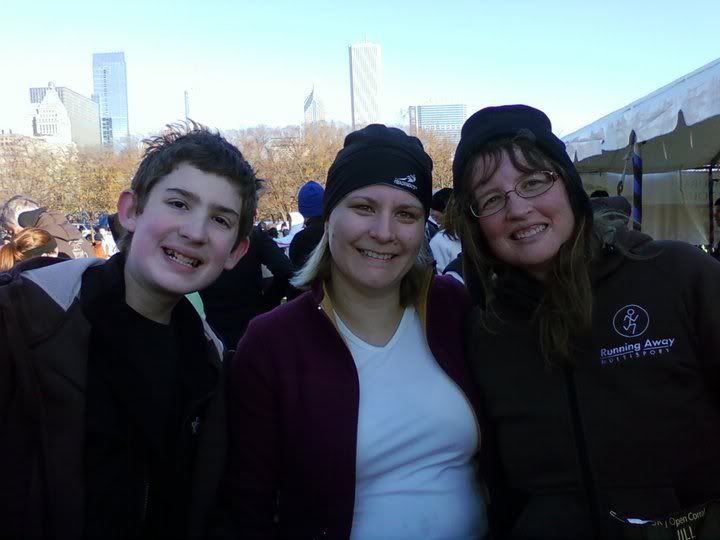 HOT CHOCOLATE 5K 2010
Ryan, Jill's son on the left, I am in the center, and Jill, President of the PA Foundation is on the right
The PA Foundation is dedicated to finding improved treatments and a cure for Propionic Acidemia by funding research and providing information and support to families and medical professionals. I have been on the board of directors for the past 5 years and we try very hard to make sure we get the most out of the funds donated.
PA is a tough disorder. Talli has faired well compared to most others that we know of, but we do not know how her life will play out or for low long. PA can cause seizures, low muscle tone, developmental delays, cardiomyopathy (enlarged, weakened heart), Long QT Syndrome, low blood cell counts, osteoporosis, stroke, suppressed immune function, optic and auditory nerve atropy, pancreatitis, and very early death.
Please make a donation to the PA Foundation. You can do so through the Paypal link at
http://www.pafoundation.com/
, through my Firstgiving page at
www.firstgiving.com/fundraiser/brittany-smith-2/poundingthepavementforpa
, or send a check payable to Propionic Acidemia Foundation at 1963 McCraren Rd., Highland Park, IL 60035.
You can follow the progress of my training on the Firstgiving link above.
Talli October 2010
Talli October 2001, her first "crisis"